KONE Middle East & Africa, Press Release, April 4, 2019
KONE, a global leader in the elevator and escalator business has opened its first Regional Distribution Center (RDC) in Dubai South Freezone (DWC), United Arab Emirates on the 20th March 2019. The RDC will be the main distribution point of KONE and Non-KONE spare parts across the Middle East and Africa. The main objective of this strategic opening of the RDC is to strengthen KONE's maintenance capability across the region through increased spare parts availability and reduced lead-time.
Samer Halabi, Regional Managing Director for KONE Middle East & Africa, says: "The opening of the Regional Distribution Center in Dubai is an essential milestone for KONE Middle East & Africa. Being geographically close to our customers allows us to further enhance our service level and to accelerate the response time to customer requirements."
The requirements of buildings across the region are normally characterized by high service levels, continuous accessibility expectations together with customer specific maintenance needs.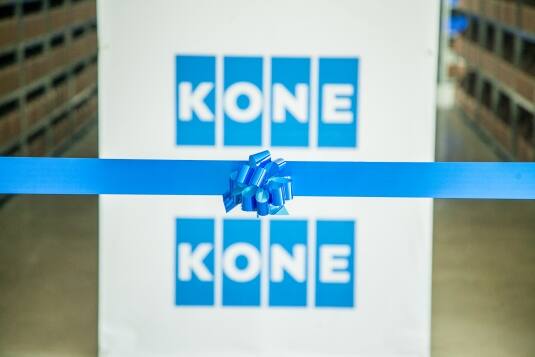 "We are driven to serve our customers better than before" states Riku Kemppi, Vice President for KONE Global Spares Supply (GSS). "Customers expect faster service and virtually no downtime, especially in these high-profile buildings, and KONE needs to be able to deliver that."

The RDC is operated by DB Schenker, who is a leader in providing strategic logistics solutions to customers globally and managed by KONE Global Spares Supply (GSS).
KONE Global Spares Supply (GSS) is a KONE internal unit that offers and manages over 160.000 different spare parts, maintenance tools and solutions that are delivered to locations all over the world. In 2018, GSS delivered nearly 1.3 million order lines globally from three different warehouses in Germany, China and Singapore. The RDC in Dubai South Freezone is now an addition to KONE's global operational excellence in spare part management, ensuring that supply chain for spare parts remains competitive and efficient.