KONE Middle East, press release, May 04, 2020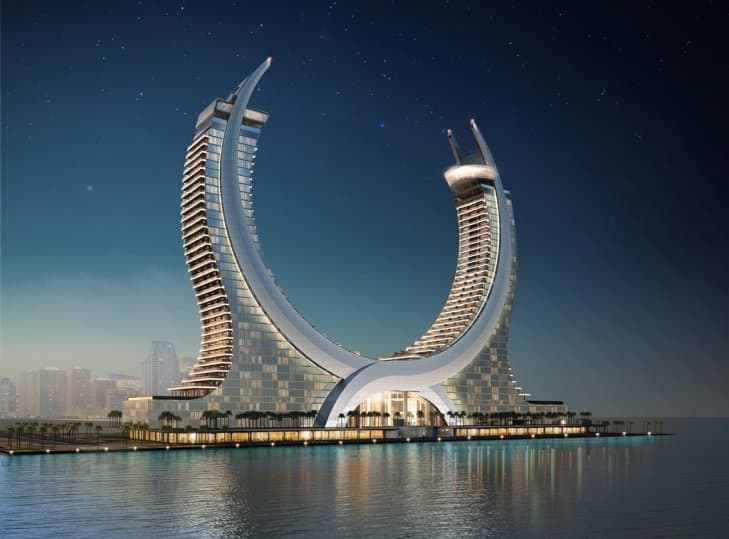 KONE Qatar is currently in the process of delivering its elevator works for Katara Towers' project at Lusail Marina District. It is set to be the future hospitality landmark with an architectural design inspired by the seal of State of Qatar. KONE Qatar utilized the most advanced technology on the market to ensure smooth people flow from the minute they enter the building until they reach their final destination.
For a project of this massive scale, KONE Qatar tailored a multi-tiered solution that was specific to the client's needs and requirements to guarantee the smoothest possible flow. The solution encompassed the delivery of 67 elevators, 16 of which are mini-space elevators with a maximum speed of 6 meters per second. KONE Qatar also provides 1 special hydraulic lift, 7 dumbwaiters, an IP intercom system and KONE E-link; a facility management tool that enables clients to monitor elevator and escalator systems in one or several buildings from one location, helping them secure exclusive tenant service quality and the efficiency of the elevator system in their buildings.
It is also notable to know that with extensive planning and coordination, and with approximately 19,000 suppliers providing KONE with raw materials, components and modules, as well as logistics and installation services, the company has successfully helped Katara Towers overcome numerous challenges pertaining to tight deadlines, people flow, installation time, custom-made specifications and requirements, and, most importantly, budgeting constraints.
About KONE
At KONE, our mission is to improve the flow of urban life. As a global leader in the elevator and escalator industry, KONE provides elevators, escalators and automatic building doors, as well as solutions for maintenance and modernization to add value to buildings throughout their life cycle. Through more effective People Flow®, we make people's journeys safe, convenient and reliable, in taller, smarter buildings. In 2019, KONE had annual sales of EUR 10 billion, and at the end of the year approximately 60,000 employees. KONE class B shares are listed on the Nasdaq Helsinki Ltd. in Finland.